I went to Philadelphia for the weekend and I thought this would be a good chance for me to blog, pre-Europe.
Steven and I flew up Friday morning and landed in Philly with snow all over the place! I then took my first cab ride ever! Which was interesting. Our driver was on his cell phone talking about how he had to call the cops because of a mexican drug dealer he picked up has to be involved in the botox scandal from this hotel and then the cops abused his car and all the details in between. (http://www.nbcphiladelphia.com/news/local-beat/Tourist-Dies-After-Butt-Implant-Procedure-at-Philly-Hotel-Source-115583299.html)
We finally made it to the Philadelphia downtown Marriott. Checked in, got settled, and then began our 2 mile trek to Geno's for some cheese steaks. Which were AMAZING! But I liked the cheese fries better, seriously best cheese fries ever, I do not even know how they did it!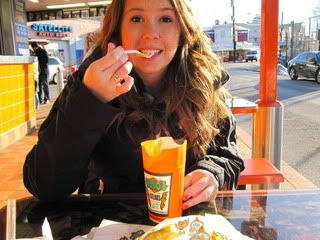 The walk was not what I expected, everyone has always tried to scare me out of liking Philly, but I got an entirely new view during this trip, there were kids getting out of school and walking to their super cute/ old school town houses, some guys were moving a couch into their new place, there were family owned shops all over the place and bicycles everywhere.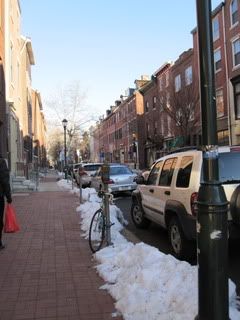 12th street really is adorable. I couldn't stop taking pictures, I was shocked that cars could even fit down some of the alleys, they were very tiny.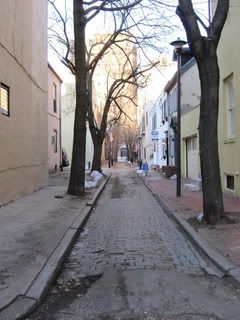 That night we went to a little bar called Finn McCools for dinner. I had the most amazing salad. It had cinnamon pears, candied walnuts, grapes, bleu cheese crumbles, and a vinagrette dressing. I would go back to Philly just for that salad. We called it an early night and went back to our room, with an awesome view.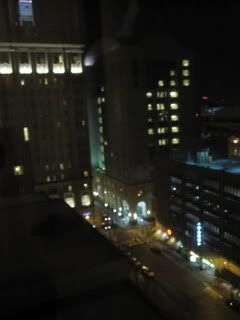 The next morning we went over to the Reading Terminal Market for breakfast.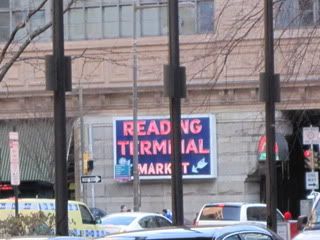 But not before putting on the amazing under armor, cold gear, it keeps you warm and makes you feel like a super hero!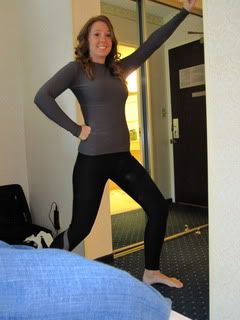 The Amish people from Lancaster own a few booths at the market in there so we decided to eat there. I had french toast and expected it to be great but it wasn't.
We then took a taxi over to the Philadelphia Zoo. I was shocked at how close you actually get to the animals there, and a little disappointed at how small some of their cages were. The alligator area was very depressing, smallest tank I have ever seen a 6 ft alligator in. Oh and I fell in love with this little monkey guy!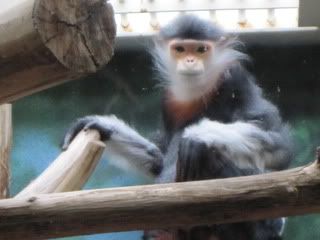 One of Stevens friends from elementary school was planning on meeting us at the penitentiary and we thought it was close to the zoo so we started walking. It was much farther than we expected. Finally a cab rolls around and then literally drove us around the corner.
The Eastern State Penitentiary was definitely interesting, I learn a lot and had a great time seeing the haunted areas, all while freezing my ass off. (I need to get used to it I guess) We even got to see Al Capone's cell!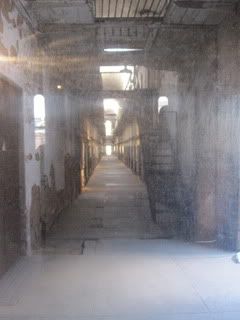 Next we drove over to Tony Lukes to compare cheese steaks. We ate at the actual restaurant section, with a horrible server. She was so rude. I wasn't surprised because we were in Philly, but up to that point everyone had been very polite. There is always one I guess! Tony Lukes did not even compare to Geno's.
We then drove down to South Street with Ryan and Erin. It was just a bunch of shops and bars, we had a lot of fun and I got a great beanie for Austria, Erin found it for me, thanks girl!
On Sunday we went back to the market for breakfast but we tried a crepe place this time. Strawberry, banana, nutella? YES PLEASE!!
After breakfast we took the subway over to the Wells Fargo Center to see the Flyers game. I was so creeped out the whole time. We had a hard time finding the actual entrance, we kept going down the exits, that had no one in them except a few homeless people. We made it to the right place and it was so cheap! $3 for both of us, the cab ride would have been around $30, so I guess the creepiness was worth it.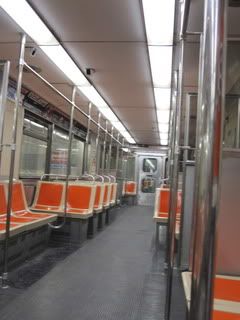 Steve made us get to the Wells Fargo Center super early, of course. An hour and half before the doors opened to be exact. But that did give me time to buy my first foam finger.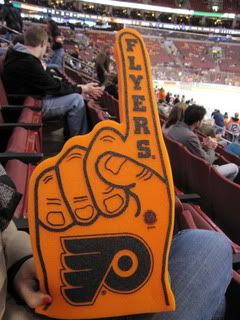 Unfortunately, the Flyers lost. They didn't even score a goal. I know Steve was sad because we came all that way and didn't even get to hear the goal horn go off. Although, we did get to hear a bunch of "HEY REF, YOU SUCK" chants that were very intense! I loved it!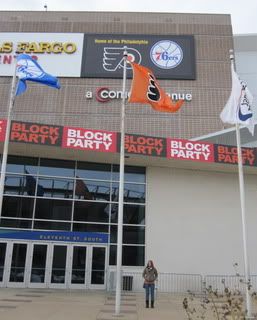 After the game we met up with Shannon, her boyfriend, and his friend. We walked under 95 to get to their car, which was also, uh, interesting. haha, ice was everywhere, and mud, so either way if you went down it was not going to be good!
We made it to the car and went over to Chickies and Petes for dinner and drinks. Dan ordered the first "tower" I had ever seen! But all I was looking forward to was my crab fries! In case you have not been blessed to know of crab fries, they are perfectly fried french fries covered in old bay seasoning, with a side of melted cheese. My mouth is watering just thinking of them! Joe and Shannon were nice enough to drive us back to our hotel and we called it a night.
Monday morning we were back at the crepe place for round two!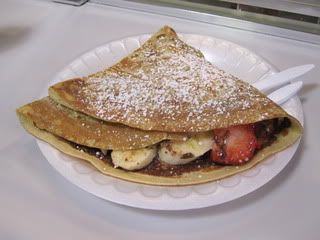 The walking was finally getting to me and my left knee was killing me! But I sucked it up! We walked over to the Liberty Bell and the Mint, and of course the LOVE statue.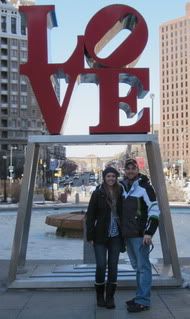 We went back to the hotel and waited in the lobby for a shuttle to pick us up and take us to the airport. I was so sad to leave : ( I will see you soon Philadelphia!!